UPDATED 12/30/20
Any eco-conscious homeowner will be pleased to know that Eucalyptus can be a great alternative to bamboo flooring. It has gained popularity in recent years thanks to the over 700 different types of species available today. Eucalyptus can reach maturity in less than five years, making it an excellent product for sustainable flooring.
In recent years, eucalyptus has become just as, if not more, popular than bamboo flooring. Flooring contractors all over the United States report installing record numbers of this easy to maintain flooring. Designed for areas with heavy foot traffic, it's one of the best alternatives to carpet flooring. Area flooring is expensive to replace. However, eucalyptus has a long life-span, making your floors look near new for years.
Another affordable option for area flooring is bargain vinyl flooring that looks like bamboo, eucalyptus, or hardwood floors. They are easy to keep clean and stand up well to wear and tear. They don't get the same knicks and scrapes that hardwood floors succumb to, leaving them smooth and shiny clean. For the bedroom, consider tiles instead of carpeting. Again, the key here is longevity. If you don't want to have to keep replacing old, dirty carpets, opt for something that is easy to clean and lasts twice as long, like tile or eucalyptus flooring. For an unbeatable bedroom floor tiles price, look online or at your local hardware store.
If you're thinking of adding strand woven eucalyptus flooring to your home's remodeling project, here are some of the benefits you should know.
1. Better Moisture Resistance
If you want to install your floors in a room with plenty of moisture (basement, bathroom, kitchen), or an area of a country with high humidity, then the strand woven eucalyptus floors are a great option. They are resistant to moisture or water, and will always do better compared to hardwoods.
It's advisable to check with your manufacturer to ensure that you can install eucalyptus floors in areas that you want to. They're in a better position to advise you on specific installation methods or any other precautions you can take during installation. Failure to take this into account may void your warranty.
2. Long-Lasting
Eucalyptus floor can withstand the use of alternative footwear and works well in supporting areas of heavy foot traffic. They can still look great even if pets are scampering across it every day. This doesn't necessarily mean that strand woven eucalyptus floors are invulnerable to everything; it's just that they are a better option compared to wood species like red oak.
Even flooring made from eucalyptus but doesn't feature the woven technique are still durable than most hardwood options in the market today. There are many homeowners whose eucalyptus floor installation lasted over twenty years before a full replacement was necessary. Some products come with a long term warranty to back up your investment.
3. Low Maintenance
Homeowners hardly have the time to repair and clean their floors. The good thing about strand woven eucalyptus floors is that they are excellent low maintenance alternatives for people with busy lifestyles. You only need to vacuum or sweep the floors once a week. If you believe that they need more intense cleaning, you can consider using specialized hardwood floor cleaning products or lightly damp mop. This is, however, not necessary.
4. Attractive
If you opt for the natural eucalyptus look, or you choose to change them to fit your existing décor, these floors are incredibly attractive. Your interior won't just look beautiful, but it adds value to your home if you wish to sell. You can even conveniently change the floors using different glosses, color, and texture to suit your style whether you want a rustic frontier look or light modern vibe.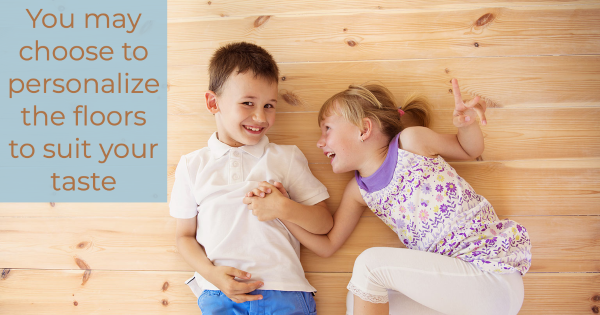 All you've got to do is select your preferred look from the different options available from a manufacturer. You may choose to personalize the floors to suit your taste by selecting how to lay your planks.
5. Different Installation Options
If you wish to use strand woven eucalyptus floors as an option for your flooring needs, there are different installation options possible with this product. You may choose to nail it, glue it down, or float it down to create a final finish that you like.
You can easily set-up your floors in a day even if you don't consider yourself a DIY expert. This gives you more time and money to make different improvements within your home. It's however crucial that you follow the instruction provided by the manufacturer to the letter so as not to void your warranty.
6. Eco-Friendly Material
Eucalyptus is an excellent choice for your flooring needs as it does not damage the environment. It takes three to eight years for eucalyptus to mature, and when its cut down to make floorboards, there's less damage done to the environment.
You can't compare this to trees that take over forty years to mature and can be an environmental disaster if you uproot them. Also, due to their shorter growth time, eucalyptus trees use fewer resources (water and fertilizer) than hardwood trees.
You don't have to use harsh chemicals when cleaning eucalyptus floors which means that you'll not contribute to water pollution (tipping the cleaning solution down the drain) or air pollution (with chemical vapors).